GSM Industrial Modem
GSM Industrial Modem
GSM Industrial Modem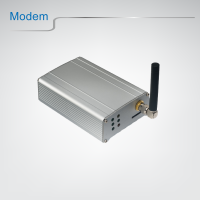 The GSM/GPRS Modem is the Plug & Play solution from Gainwise for quick and easy integration. The wide performance range and robust case of the GSM/GPRS modem enables you to quickly develop new telemetry and telemetric applications. It offers additional features, such as SIM application toolkit and extended AT Commands for the industrial environment.
GSM/GPRS modem is the ideal solution for data, SMS and fax communication, thanks to its industrial standard interfaces and integrated SIM card reader.
Features
Data transfer
CSD up to 14.4 kbps, USSD, Non transparent mode, V.110
Supports different character framing modes e.g. 8N1, 7E1
Fax
Group 3, Class 1, 2
SMS
Point-to-point MO and MT
SMS cell broadcast
Text and PDU mode
Interfaces
Plug in power supply
Mini-SIM card reader
Antenna connector SMA (male)
Operating status LED
V.24/V.28 interface on the 9-terminal sub-D socket or USB interface
---
specification
1. Frequency band:GSM850/900/1800/1900MHz
2. Transmit power: Class 4 (2W) for EGSM900 and GSM850 Class 1 (1W) for GSM1800 AND GSM1900
3. Control via AT commands
4. SIM Application toolkit
5. Multiplex RS232 interface or USB interface
6. Ambient temperature -20 ℃ to +55 ℃
7. Dimensions 90 x 54 x 25 mm
8. Weight 105g
Contact GAINWISE to Get a Quotation Now!