4G VoLTE GSM Intercom Systems (8 households)
LTE GSM Door Phone (8 households)
SS1808-08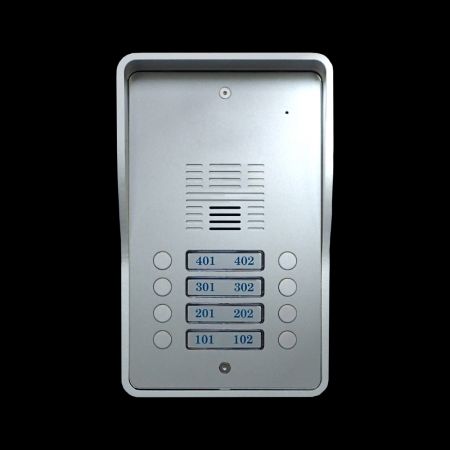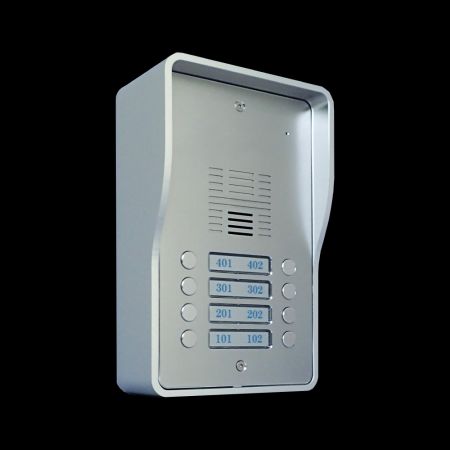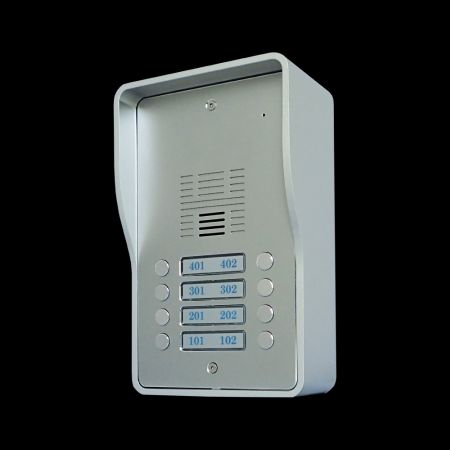 4G GSM Audio Intercom which is made of aluminum hence is more durable. It has 8 buttons, each for a separate user to share 4G intercom and each button can store set of 3 telephone numbers. This door intercom can be used by up to 8 residents.
4G GSM intercom system is easy entering and exiting - simply dial a number and the gate opens. Locking the system, adding, deleting and suspending users is done easily using any phone. Mobile phone technology is much more secure and easy to manage and at the same time eliminates the need to use multiple, special-purposed remote controls and key cards. And since all the incoming calls are not answered by the GSM unit, there is no call charge to the users. Intercom system supports VoLTE, enjoys clearer call quality and faster phone connection.
The SS1808-08 is in aluminum with a vandal-proof design, and is available for flush-mount and surface mount installations. It can also act as an access control system to control and manage access for up to 1152 users.
What is VoLTE?
VoLTE (Voice Over LTE) transmits voice services over the LTE network, allowing users to enjoy clearer voice call quality.
VoLTE features
. 0 noise super clear sound quality
. 1 seconds ultra fast dialing, no waiting
4G 3G 2G GSM intercom system enables VoLTE conditions
. Mobile phone must support VoLTE
. SIM card supports VoLTE and needs to be with the telecom provider
. intercom system module has support carrier
Features
Answer the door intercom and talk with visitor anywhere anytime
Calls up to 3 numbers whatever landline or mobile
Open the gate from anywhere in the world
Support VoLTE
Ring intercom to open the door (1152 numbers)
No wiring installation fee
Anti-Vandal and aluminum design
Flush mount and surface mount design
Simple to setup by PC / SMS /APP

---
specification
Operating Voltage
12 to 24 Volt AC/DC
Operating Current
Maximum 250 mA, Typically 55mA
GSM / 3G / 4G Frequency
SS1808-08-E:
LTE FDD: B1/B3/B7/B8/B20B28A
WCDMA: B1/B8
GSM: B3/B8

SS1808-08-A:
LTE FDD: B2/B4/B12
WCDMA: B2/B4/B5

SS1808-08-AU:
LTE FDD: B1/B2/B3/B4/B5/B7/B8/B28
LTE TDD:B40
WCDMA: B1/B2/B5/B8
GSM: B2/B3/B5/B8
Physical size
Face plate: 180 x 109 mm, Stainless cabinet:189(H)*118(W)*65(D) mm
Length of antenna
3 meters cable
Humidity
Less than 80% RH
Operating Temperature
-20℃ to 50℃
Android &IOS APP
For more information on our APP you can (click)  here
TAG: 4G VoLTE, doorbell, doorstation, Clear voice,
Contact GAINWISE to Get a Quotation Now!