3G Gate Opener with Keypad
SS1401D2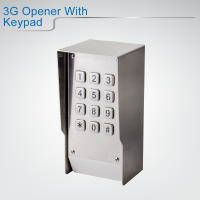 Introduction
SS1401D2-M 3G Keypad Opener is a 3G relay switch remote control system which can activate automatic gates with a free call from your mobile phone or enter PIN code to gain access by using keypad. The users' phone numbers or PIN code are programmed into the device by SMS or call. The device recognizes incoming Caller ID and drop the call before switching. With this system you can authorize up to 1150 phone numbers and 384 PIN code to open the gate or door at no cost       This 3G based keypad entry system is an affordable and simple way to provide specific access to your property at the site of your electric gate and garage doors for residential, apartment and commercial buildings.It's a robust and durable unit made from vandal resistant stainless steel with backlit digital keypad.
---
Features
Open the door via PIN code or Call/SMS remotely
384 user PIN codes
Free Call to access by Caller ID (1152 users)
Log records sent via SMS/Email
SMS alert when input is triggered
Support 2 output relays and 3 input triggers
Wrong PIN code entry limit and will emit alert sound
Anti-Vandal and stainless steel keypad with blue backlight design
specification
| | |
| --- | --- |
| | |
| Power supply | AC or DC 12V-24V/1A |
| Power consumption | 12V input Max. 50mA/Average 50mA |
| Band Frequency | 3G Quad bands 850/900/1900/2100 MHz |
| SIM Card | Standard mini SIM Card |
| Relay Rating | 10A/240VAC |
| Antenna | 50 Ω SMA Antenna interface |
| Temperature range | -20-+60°C |
| Humidity range | Relative humidity 90% (condensation free) |
App
Android APP
---

IOS APP
---

TAG: 3G gate opener with keypad, 3G door opener with keypad, 3G controller with keypad, 3G remote control with keypad, 3G relay switch, 3G key, SIM, smart home, pin code,
Contact GAINWISE to Get a Quotation Now!